"NMC" Compression Fittings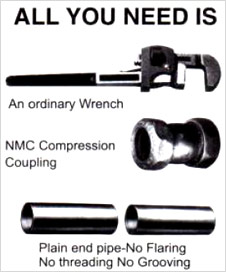 Permanently Tight, Flexible Joints on Steel Pipe Copper Tubing in less than a minute !

Wherever they are used – on original NMC equipment. for appliance hookups, for small diameter piping in factories, homes and on ships NMC Compression Fittings offer the simplest possible means for joining pipe. There is no exact pipe fitting required, no threading of pipe ends, no grooving, no soldering, no flaring, no caulking. NMC Fittings are factory – assembled you Simply slip them over the plain pipe ends and tighten the nuts-the specially compounded NMC Gaskets make a permanent, flexible – tight seal. Their unique flexibility permits 1.5mm pipe movement as well as pipe deflection to 6 Their neat appearance and compactness make them acceptable for virtually all uses. ALL NMC fittings are precision made of rugged materials, and tested to withstand prescribed conditions of service. For really time – saving labour – saving couplings end fittings, specify NMC Compression Fittings In the 30 seconds or less it takes to make the first connection, you will be convinced of their superior value.
How the 'NMC' Compression Fitting works!
1.Push pipe ends into
factory assembled
NMC fitting
2.Tighten end Nuts-
Takes only a
Few seconds.
3.A permanently tight,
flexible joint

TYPICAL USE

To join pipe better than a union.
NMC couplings are superior to unions. They eliminate threading, exact pipe cutting, corrosion of threads. They absorb vibration and accommodate misalignment
To simply cleaning and repair.
Where periodic cleaning of piping is necessary disassembly is easy at any point. Many lengths of pipe need not be disconnected for reparrs.
To joint misaligned pipe.
Since each fitting allows up to 6′ deflection, 'joining of misaligned pipes ;8 simplified.
To replace hose connections.
Hose connections eventually split or tail in service. NIVIC couplings give tight, permanent streamlined connections.
For quick cut-iris
Connections for appliances, faucets, or brarichlines can be cut in quickly since NMC couplings eliminate pipe threading, exact pipe lengths, unions.

To repair leaks.
Cut pipe at leak. spring pipe ends slip on a NIVIC coupling, slide back over cut, tighten end nuts = you havii a permanent repair.
To join or repair pipe in close quarters.
NMC Fittings can make the job easy in places too crowded to use threaded fittings.
To save time-no pipe threading or exact pipe length.
Most piping jobs can be finished In a fraction of time required where threaded joints are used.
To make economical outlets on tanks, walls, pipes.
Steel 90 Couplings can be cut in a half and the body welded to a pipe, a lank, or a wall, The NMC end provides an easy way to connect plan – and pipes
To absorb vibration
The resilient gaskets absorb all normal vibration, deflection and movements of pipe …. preventing stresses that often cause failure.
For outdoor piping
Where corrosion of threads on outdoor piping has been a problem, NMC Fittings offer long term corrosion resistance, because full wall thickness of pipe is retained,
To eliminate ground-joint unions.
Since pipe can be turned in a NMC Fitting before tightening, a union can often be eliminated.